"She stretched herself up on tiptoe, and peeped over the edge of the mushroom, and her eyes immediately met those of a large blue caterpillar, that was sitting on the top with its arms folded, quietly smoking a long hookah, and taking not the smallest notice of her or of anything else.

"The caterpillar and Alice looked at each other for some time in silence: at last the Caterpillar took the hookah out of its mouth, and addressed her in a languid, sleepy voice.

"Who are you?" said the Caterpillar.

"This was not an encouraging opening for a conversation. Alice replied, rather shyly, "I-I hardly know, sir, just at present – at least I know who I was when I got up this morning, but I think I must have been changed several times since then."[1]
"Who are you?" A question posed by the hookah-smoking Caterpillar to Alice, a girl lost in a topsy-turvy world who struggles to find an answer to the question. Her response to the Caterpillar – that she knew who she was – demands explanation, but all she can say is, "I can't explain myself, I'm afraid, sir…because I'm not myself, you see."[2]
As the COVID-19 pandemic took hold of the world in the late spring of 2020 I was living into my Christian vocation and working to fulfill all that I believed I was called to be in this world. In the span of three months I had graduated from seminary, married my partner, moved to a new state and started my career as the pastor of a small, rural church. I had defined the essential characteristics of what was most important to me: degree-holding, small-town-living, left-of-center husband, preacher, writer, and pastor.
Over the past year-and-a-half I've struggled with maintaining most of these characteristics because of the loneliness of the pandemic, because I was the new kid on the block, because I couldn't find support, because a thriving marriage is hard work. Mostly, though, I've struggled with preserving these characteristics because they're not entirely preservable: they shift and change, ebb and flow. And now, with most of these characteristics in shambles (my marriage is good, though!), I'm am standing in Alice's shoes, finding difficulty in explaining myself because I, too, am not myself anymore.
I've spent the past month moving our belongings and setting up our apartment. I've been cooking and cleaning, tending to my partner's needs and wants. I've been doing a lot of reading and reflecting on my life over the course of the pandemic, seeking to shed some burdens and tend to some wounds. I've been mourning the loss of all these characteristics that I have leaned on, trusted, and felt comfortable being. All these things have been parts of who I was and what I did but, as much as I trusted them to be, they were never essential to my innermost being, to the createdness of who I am. Now I, like Alice, am standing in a topsy-turvy world faced with the 'who are you' question and my response is absolutely similar to hers: I hardly know who I am.
Truthfully, the Caterpillar question has loomed over my head for most of my life, one that I have returned to year after year. Notebooks have been filled with my own words as I have tried to spell out who I am. Books and psychology journals have been read and digested as I've sought the right words to define who I am. Therapists have spent countless hours guiding me on my quest to understand who I am. In the end, though, I hardly know much more than when I started because at the end of reading all those books and writing in all those journals and attending all those therapy sessions I always come up with the same definition of who I am: beloved.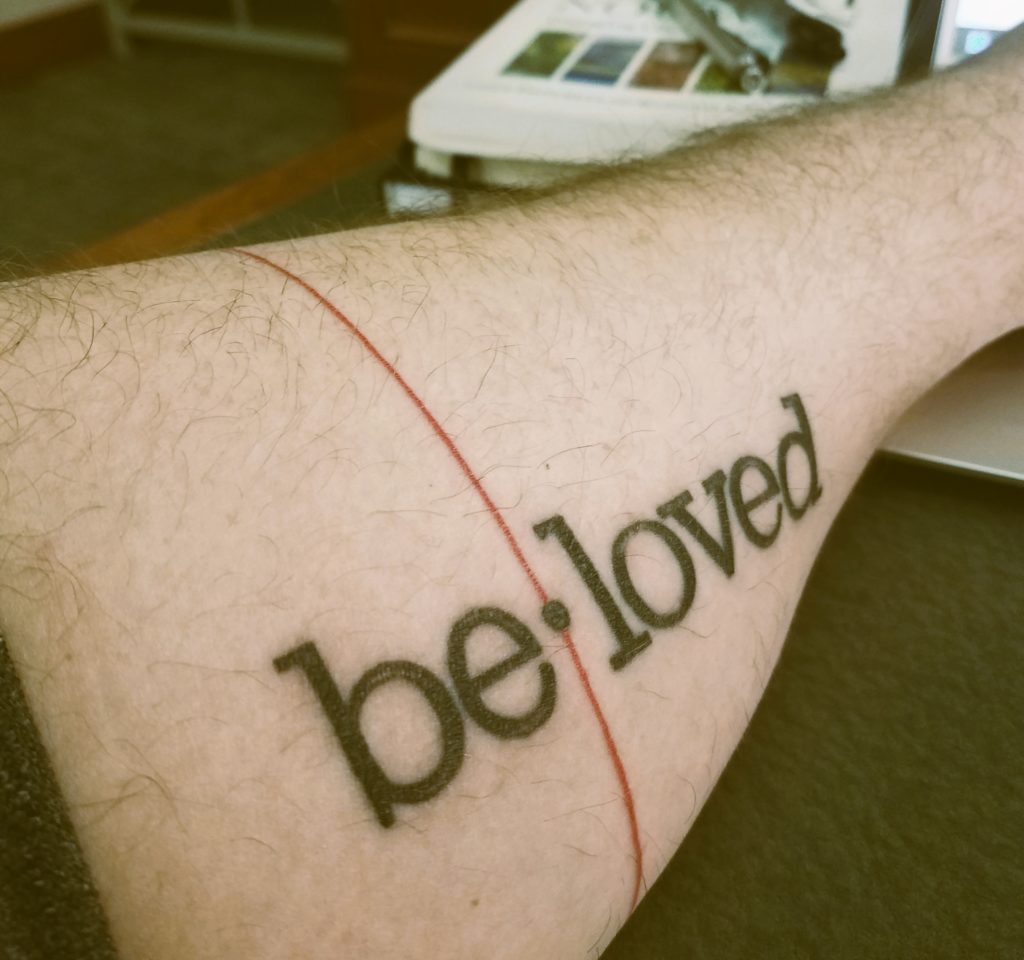 Beloved. It's one of those words we know, but we don't really know. Etymologically it's a compound-like-verb of be+loved. Love, we know, is "a feeling of strong or constant affection for a person"[3] – here it would be like the love between a parent and child, between siblings, between close friends. The prefix be- is and Old English element meaning "about, around, on all sides"[4]; beloved means 'to be surrounded by love and constant affection'. Encircled by love. Loved on all sides. No matter where one goes, as one who is beloved you cannot get away from the love. No matter what one does, as one who is beloved you cannot out-do the love.
My Creator's love is a beloved-love. No matter what I do, no matter what I don't do…no matter where I am or how I live, my Creator's love never abandons me, never leaves me, never stops surrounding me on all sides. I am beloved by God. That's who I am. My belovedness is the core of my existence, the reason for my living and being and doing. Without it I am not – I am nothing. Beloved is who I am and honestly, beloved is all that I am.
Despite my knowing that I am God's beloved I struggle with accepting it. I struggle with trusting it. I struggle with living it. The books and journals and therapy sessions have all been a constant attempt to discover something more than my belovedness because it seems too simple. All of who I am is narrowed down to being beloved by God? Absurd. Preposterous. Unimaginable. Which is why I have continuously been seeking more. There has to be more, right?
In the absurdity and unimaginable is where we try to do and be so much more. We try to fill in self-perceived holes because being God's beloved can hardly be enough. We seek money and fame, glory and prestige because to the world around us that is enough…that is who we are. We seek careers and promotions, job titles and jobs because that is enough…that is who we are. We plant our being in partnership, parenthood, friendship, and career because to the world that is who we are. To the world, being the beloved of God and resting in that belovedness is simply not enough.
But it is enough. Being God's beloved is enough; in fact, it's all there is. At the very core of who I am is my belovedness, is my being surrounded by the love of my Creator God. The very essence of who I am is God's beloved. The reason for my living is because I'm God's beloved. I love my partner and my parents, my siblings and my friends because I am God's beloved and I express my love out of my belovedness.
And every good and pleasant and pleasing thing I do in my life is an expression of my belovedness. I seek my neighbor's well-being – their welfare – because they, too, are God's beloved. I care for all of creation because it, too, is God's beloved. I seek the end of death in all forms because life is God's beloved. I pursue mercy and justice for the oppressed and imprisoned because they are God's beloved. I work to shelter those experiencing homelessness, to feed those experiencing foodlessness, to give drink to all who are thirsty because they are all God's beloved. Alice and the Caterpillar, me and you and them – we are all surrounded by the love and affection of God – we are God's beloved.
I'm living in a topsy-turvy world right now where nearly every worldly definition of who I am has been stripped away (again, marriage a-ok). I don't know what I'm to do next, where I'm to live next, how I'm supposed to live out my vocation. I'm scared and worried, depressed and medicated. I'm looking at myself, questioning: "Who are you?"
Right now I don't know much more than this:
Emmanuel, you love me.
I am your beloved.
And that is enough.
That is enough.
That is more than enough.
much love. sheth.
—–
[1] Lewis Carroll, Alice's Adventures in Wonderland (New York: Books of Wonder, 1992), 57-60.
[2] Ibid, 60.
[3] Merriam-Webster.com Dictionary, s.v. "love," accessed February 8, 2022, https://www.merriam-webster.com/dictionary/love
[4] Online Etymology Dictionary, s.v. "beloved" accessed February 8, 2022, https://www.etymonline.com/word/beloved